Oi Keibajo Mae

Right next to Oi Racecourse which opened in 1950.
Currently a popular place for young people to have fun with "Twinkle Races" held on summer nights.
On the opposite shore are the lush apartments of Yashio Park Town near Oi Futo Chou Kaihin Park. At the south end of the park, you will find a sports complex with tennis courts, baseball fields and more along with Nagisa-no-mori Park on the shoreline of the artificial island.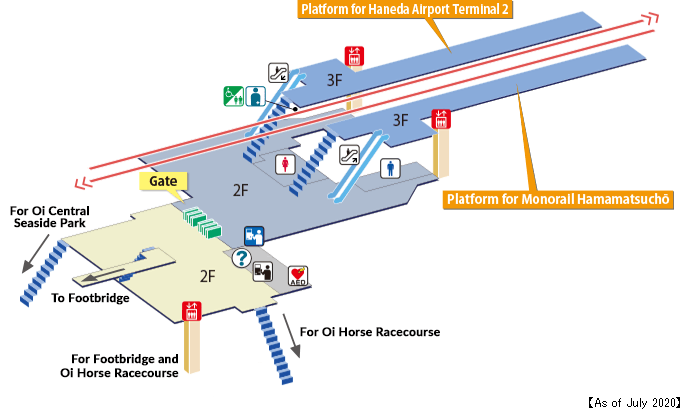 | | |
| --- | --- |
| Address: | 2-2-35Katsushima, Shinagawa-ku, Tokyo |
| Opened: | May, 1965 |
Station Area Information
Oi Racecourse and Shinagawa Kumin Park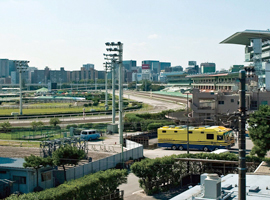 Oi Racecouse, visible from the platform, is more than enough fun on race days, but races aren't the only thing to see at the station. Shinagawa Kumin Park draws crowds of visitors in every season with nearly 300 pine trees, 130 plum trees, and 400 cherry trees.
It is a great place for friends and families, as well, because visitors can also do day camping and hold barbecues. Shinagawa Aquarium is a short walk away, with performing dolphins and sea lions.
Oi Futo Chuo Kaihin Park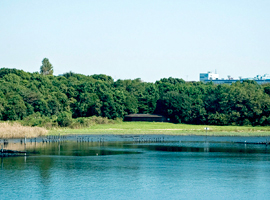 Exiting the station and crossing Katsushima Bridge, you will arrive at the forest that runs along Oi Futo Chuo Kaihin Park. Wild birds like the lesser sand plover fly in to the tidelands and you can watch them from an observation house. There are also areas for barbecuing, fishing, or just playing along the shore.
At the far end of the park are fully-equipped sports facilities including a track, a baseball field, tennis courts, and more.