Haneda Airport International Terminal


Opened together with and connected to Haneda Airport International Terminal on October 21, 2010, this glass-sided station has a unified design.
The ticket gate is just one minute from the departure lobby, making journeys smooth and comfortable. On clear days, you can even see Mount Fuji from the station platform.
| | |
| --- | --- |
| Address: | 2-6-5 Haneda Kuko, Ota-ku, Tokyo |
| Opened: | October, 2010 |
Station Area Information
The New Gateway to Japan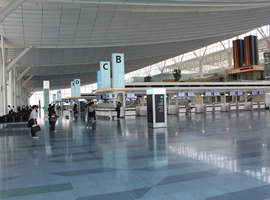 The new international terminal is a new gateway to Japan, connecting it with the world. The terminal was constructed to operate 24 hours a day, which required a lot of extra facilities.
Once passengers leaving the country have filled out their departure paperwork, they can enter the limited area, where they can shop at reasonable prices from a wide selection of well-known brands in duty-free shops. The terminal also has plenty of fascinating things to do for visitors seeing friends and family off or just coming to check it out. There are many wonderful shops and other places in the general area as well.
A Fun Terminal to Spend a Day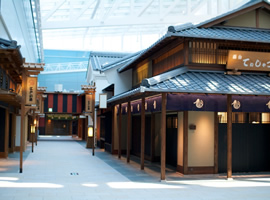 Going up the escalator from the lobby and its view befitting an international airport will take you to the lounge area which is decorated in a Japanese theme. Traditional airport design has been cast away, giving way to the "Edo Butai" event stage, and the "Edo Ko-ji" restaurant and shopping area, creating an atmosphere like a theme park.
Further above are shops loaded with goods decorated with popular Japanese characters and even a planetarium, so even if you aren't traveling, you can spend a fun-filled day at this terminal.