Haneda Airport Terminal 3 - Japan's New Gateway
Tokyo International Airport, more commonly known as Haneda Airport, has made huge expansions to meet the increasing demands of the aviation industry, the biggest being the installation of a fourth runway, Runway D, opened on October 21, 2010.
The runway was designed to increase capacity and enlarge the airport's network of routes, making the airport more convenient for travelers and at the same time add domestic and cargo flights.
Along with the new runway, other installations were necessary in order to add international and cargo flights including a new terminal 3, ramps and more.
In order to ensure convenient access to the terminal 3 for our passengers, we at Tokyo Monorail altered a section of our route, and opened Haneda Airport Terminal 3 Station (formerly know as Haneda Airport International Terminal Station) on October 21, the same date that the new terminal 3 opened.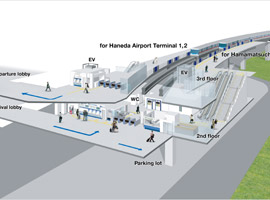 We provide customers using the terminal 3 with the most convenience through a strong concept and unified, high-quality service.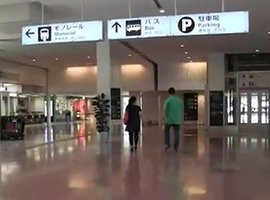 You can view a video showing the transfer at Haneda Airport Terminal 3 Station, which is directly connected to Haneda Airport Terminal 3. It takes about 1 minute to walk from the station to the place where boarding check-in procedures are done.
Note: This video was shot in September 2015.
Tour
Gallery of the construction of Haneda Airport Terminal 3 (formerly know as Haneda Airport International Terminal Station)