The work of service managers consists of circuiting the station grounds and guiding travelers from abroad, people unused to traveling and elderly passengers.
They aim to always be hospitable, and seek the satisfaction of elderly, disabled and all other customers.
All service managers are qualified as service helpers and have basic lifesaving certification.
To be qualified as a service helper, one must have studied hospitality and safe assistance techniques in order to provide safe service to elderly and disabled customers.
Our train and station crews have been earning this certification since 2005, and we plan for these workers to earn further qualification.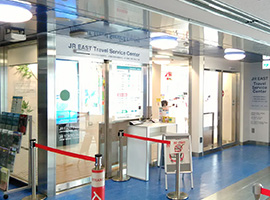 Our mission is to provide service to people visiting Japan and to help everyone coming from abroad to better enjoy their journeys in Japan.
Outline
Name: JR EAST Travel Service Center (Haneda)
Location: Haneda Airport Terminal 3 2F (Arrival Lobby)
Languages used: English, Japanese

Note: Language support varies depending on the day and time.
Services
Exchange and sale of JR East rail passes for overseas tourists, exchange and sale of Japan Rail Pass, JR ticket sales, tourist information, etc.