Sightseeing in Tokyo

Odaiba is a waterfront area built on reclaimed land in Tokyo Bay where you can gaze on both the heart of the city and the ocean as you shop, dine and have fun. Well-known as an entertainment spot in Tokyo, tourists from all over the country throng to the area on holidays. Plus there are many more exciting things being developed, making Odaiba even more alluring. It is sure to bring something new each time you visit.

Fun, shopping and food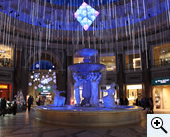 Venus Fort is a shopping mall in Palette Town. Inside is a recreation of a 17-18th century European town, and the third floor is for outlet shopping.
Next, Decks Tokyo Beach has a shopping and dining area on its open-terraced boardwalks, plus all the exciting rides of Tokyo Joyopolis.
Entertainment both children and grownups can enjoy
If one building was to be the symbol of Odaiba, it would be the Fuji Television building. It holds a large number of studios for making programs and its summer events are always popular.
Odaiba also makes a great place to learn, from the explanations of shipyards and history and engine displays at the Museum of Maritime Science to the space and robot exhibits of the National Museum of Emerging Science and Innovation.
In addition, you can visit Megaweb, Toyota's showroom in Palette Town. You can not only check out the assortment of cars, but also ride on the giant Ferris wheel.
Savor the warm waters of a hot spring and refresh yourself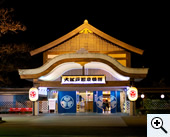 Japan's first hot spring theme park opened on March 1, 2003, 400 years after the start of the Tokugawa shogunate. There you can enjoy bathing in natural spring water brought up from 1,400 meters underground.
There are many styles of bath available, from footbaths, original baths, golden baths, expansive baths, open baths, women-only wooden tub baths and more.
After bathing, visit a temple festival or a game corner and take in the old Edo spirit. This is a perfect place to relax with enough entertainment to captivate both the young and old.