Sightseeing in Tokyo

With dignified, long-standing department and specialist stores, streets faced with lines of famous European luxury brand company stores, Ginza is perhaps Japan's most brilliant area.
Nearby, Yurakucho, with a JR station of the same name, is not simply a stop on the way to Ginza, but a great place for food and shopping at its enormous commercial complex.
From upscale restaurants to cozy pubs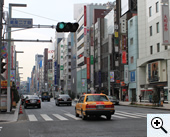 For travelers, dinner can really make or break a day. The restaurants in Ginza are all high-class. From sushi, tempura and traditional Japanese course meals to French, Italian and Chinese, Ginza offers the finest cuisine of any category. The area also has a large number of stores for the thriftier customer as well. Under the tracks of the JR line near Yurakucho station, you'll find a collection of stores overflowing with old-fashioned Showa-era spirit.
Experiencing quintessential classical performances at the Kabuki-za
The Kabuki-za, a theater for kabuki performances, was reborn in 2013 as the fifth reincarnation of the building in a tradition extending back to 1889. With each seat featuring a good view of the stage along with good acoustics, the Kabuki-za is the only theater in the world dedicated exclusively to kabuki, and has a wide range of features such as earphone-equipped narration and subtitled guides. Visitors will also find a variety of dishes available for eating and assorted gifts available for purchase. The Kabuki Tower, a mixed-use building, houses the Kabuki-za Gallery with kabuki-related exhibits.
Photographs supplied by Shochiku, Kabukiza Theatre