Sightseeing in Tokyo

Akihabara, which needs no introduction as the world's number one town for electronics, not only has a plethora of shops with every type of electronic product imaginable, but recently is populated with cosplayers: people who dress up as their favorite characters from animation, comics and games. The area sees a lot of visitors on weekends and holidays, as it is a gathering and origin point for many subcultures.

The world's leading Electric Town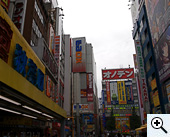 Just outside of the Electric Town exit are old shops selling an assortments of electronic parts that would bring joy to enthusiasts, but there are plenty of appliances and other electronic goods for the average person as well, making this the world's foremost electronics district. The many foreign visitors enjoy duty-free shopping in the area.
Starting point of subcultures