Tokyo Monorail Line Guide
Field Trips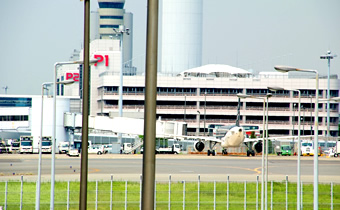 There are many gigantic facilities necessary to power the metropolis of Tokyo along the Tokyo Monorail Line.
Many of these in fact gladly give tours. There are plenty of things to learn for both kids and grownups, so it might make a perfect family trip. Why not expand your horizons and take the monorail on a field trip?
Tokyo's Kitchen/Ohta Market
Tokyo's markets are famous for being on reclaimed land, but for size, Ohta Market, right by Ryutsu Center Station, is the largest. It handles marine products, fruits and vegetables, flowers and other ornamental plants, but in terms of sheer scale, it is the biggest fruit and vegetable market in Japan. Tours are free, so feel free to visit.
Getting off at Tennozu Isle Station and crossing the Keihin Canal will bring you to Shinagawa Thermal Power Station, a green power plant that uses an advanced combined cycle system to generate power. Tours are by appointment only.
Experience the scale of airplanes at maintenance facilities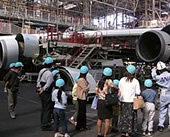 You can tour the maintenance facilities of both ANA and JAL. Both companies will give you a tour of the hangars after an outline using videos and models. Here you can inspect aircraft under repairs from up close.
You'll be in awe of the size of the aircraft. Once the tour is done, JAL offers a chance to put on a captain's or flight attendant's uniform for commemorative photos which is popular with kids, and ANA has a shop with original goods for sale.