Tokyo Monorail Line Guide
Pleasant Strolls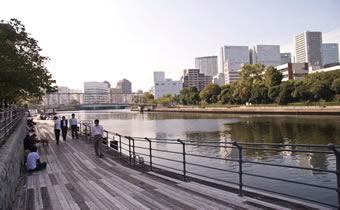 Entering the 1990s as a warehouse district, Tennozu Isle underwent a great transformation and is now a fashionable area with lines of modern towers. Happily, a convenient pedestrian walkway that runs along the canal also passes by a number of popular restaurants and shops. It's only one station from Monorail Hamamatsucho.
Strolling in the pleasant sea breeze in Tennozu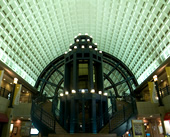 Exiting Tennozu Isle Station on the ocean side will bring you to a wooden pedestrian walkway along the canal that leads to Seafort Square. It is a pleasant place to spend a day with a variety of shops, cafes, restaurants, theaters and hotels.
Taking the boardwalk along the canal will take you to the site of the old warehouse district and T.Y. Brewery, an American west coast-styled brewery restaurant.
Higashi-Shinagawa Kaijo Park Area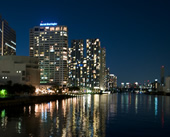 The Higashi-Shinagawa Kaijo Park area, across the Isle Bridge from Tennozu, also has a boardwalk.
An evening stroll in the sea breeze is not to be missed. Lights from skyscrapers and apartment buildings reflecting in the waters of the canal make for a romantic date.