Tokyo Monorail Line Guide
Fun with Boats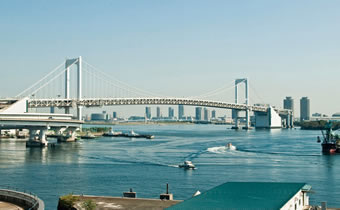 The Tokyo Monorail Line runs along the Keihin Canal, connecting Tennozu and Showajima, and at each station there are not only cargo ports, but many piers for leisure as well.
Tokyo has been a capital thriving with boats since the Edo period. Try taking a boat out from the monorail and enjoying the ocean as well.
Cruising canals and Tokyo Bay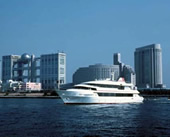 The Crystal Yacht Club, based in Tennozu, offers cruises of Tokyo Bay on its luxury yacht, Lady Crystal. On its lunch and dinner cruises, you can enjoy its famous, authentic French cuisine and wines. ZEAL, also with a pier on Tennozu, offers a variety of cruises on boats large and small. Cruises near Haneda Airport, where you can watch as planes fly straight overhead are popular.
Enjoy the seas, Edo style, on pleasure and fishing boats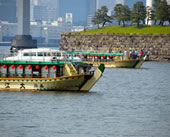 Wouldn't you like to ride on a pleasure boat? At Funasei, based in Kitashinagawa, you can ride a pleasure boat for two. Highlights include going under Rainbow Bridge and viewing the glimmering lights of futuristic Odaiba at night. For those who want some real fishing on Tokyo Bay, head to Haneda's Esamasa fishing boat shop. Anyone can ride on one of their passenger boats, and if you have a large party, you can charter a boat of your own. They offer fishing of all types and for all seasons.